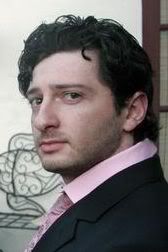 Writer Gene Stupinsky graciously allowed me to interview him recently for Life In The Office. He is the co-writer of some of your favorite Office episodes: "The Fight", "The Secret", "Michael's Birthday", "Women's Appreciation", "The Convention", "Traveling Salesman", and "The Return". He has also appeared on-screen, playing a Vance Refrigeration delivery man (along with writing partner, Lee Eisenberg) in "Valentine's Day" and "Drug Testing". Here is a photo of Gene and Lee Eisenberg with Jenna Fischer from "Valentine's Day".
Donna: The fans are so depressed about the strike. How is everyone "keeping it together" out your way during this difficult time?
Gene: Well, for one, we're out there picketing everyday so we still get to see each other and that helps us keep our sanity; on the other hand, we're walking in circles for hours at a time which can make a person go insane. So maybe we're not exactly keeping it together.
Here is Gene and Ed Helms (Andy) on the picket line. Fighting the good fight.
Donna: Word is "Celebrity Apprentice" is taking over "The Office" time slot come January 2008. Our fans are sickened by this. How do you feel about a reality show taking the reigns of must-see-Thursday?
Gene: The fact that a reality show is replacing us bothers me less than the fact that so many Americans want to spend time with Donald Trump in their homes. He's what the French would call an "ass clown". I'd rather work for Michael Scott.
Donna: An Office Christmas episode is almost a tradition at this point. How do you feel about the fact that re-runs will replace it?
Gene: The thing that really saddens me is that Justin Spitzer wrote a really funny script and now nobody will get to see it. There's a running joke among the writers that we're always forgetting Justin at restaurants and he's always getting picked on, but this time he really did get a raw deal.
FYI from Donna~ writer Justin Spitzer has also appeared on the show. In "Fun Run" he plays a hospital intern. In speaking with Dwight about Meredith's condition, he spouts the line, "So that's where her uterus went".
Donna: The fans are desperate for an end to this strike. How optimistic are you about the scheduled talks on Monday, November 26th?
Gene: Sometimes, I think it's all gonna work out and we'll be back to work in days, and other times I think this thing will drag out until June. All I know is the writers want to get back to writing as soon as possible. Right now, let's just say I'm "cautiously optimistic". But ask me again next week.
FYI from Donna ~ As of right now, the rumor from "Deadline Hollywood Daily" is that a deal might have been struck. Read the article here. Let's all keep our fingers crossed that the rumors are true!
Thank you so much to Gene Stupinsky. You are my first "Office" interview, and therefore my very favorite. The say you never forget your first…lol
~Donna