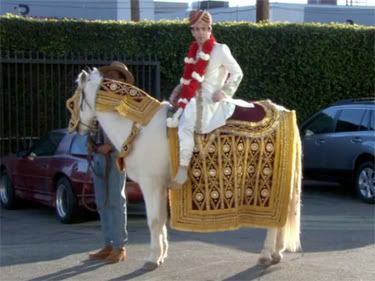 Hello all! Sorry this recap is so late. I actually just finished watching the episode for the first time. And I have to say, I really liked it. There were a few parts that made me actually laugh out loud. Of course this episode dealt with um…mature-themes, and I'm not known for being very adult about such things. Which basically means I giggled my butt off at all the inappropriate times. Not a mature thing to do, I know, but if you're anything like lil ol' immature me, I bet you enjoyed this episode too.
The cold-open starts off with a rainy day at The Office. Phyllis comes in saying, "it's raining cats and dogs out there." Her co-workers seem more interested than normal in her comments. Why, you ask? Well, it seems Phyllis is known for spouting the same twelve cliches on rainy days over and over and over again.
 The staff knows her so well that they decided to bet that by noon that day, Phyllis would have said all twelve of her normal "rainy day cliches." Jim decides to take that bet, and if he loses, he'll buy everyone in the office hot chocolates. Yummy!
I loved this cold-open because it really showcased how close the office staff is after all these years together. This little bet was very cozy and sweet to witness. Like any close friends (or co-workers), they all know each other very well. And this includes their little annoying ticks and habits too. For example, Phyllis's rainy day cliches. For me, this scene was an excellent start to the episode on the basis of cuteness alone.
Onto the main plot of the show. If you remember from last week's episode, Nellie's back in Scranton. And, in Andy's absensce, she's taken over his job as boss. Obviously Andy isn't digging this at all. He kindly asks Nellie to leave now that he's back, but she says no.
Despite the fact that she has no claim to Andy's job, all the staff  seems to like Nellie Bertram. It's not that they dislike Andy though. Guess it's going to be up to the boss, Robert California, to decide what to do about the two bosses.
In the staff breakroom, we see Jim, Pam, Kelly and some unknown attractive Indian man laughing over lunch together. What gives? It seems that Pam and Jim's pediatrician, Bravi, asked them if they knew any nice women. So, they introduced him to Kelly and the two hit it off famously. Pam realized that Kelly's relationship with Ryan was toxic and she wanted her to get a fresh start. Oh, and she also likes that she now has a personal connection with their pediatrician. "But that's not the reason I introduced them," claims a guilty Pammy.
Ryan explains his side in a talking-head, "Kelly and I broke up. And her new boyfriend seems awesome, if you're into Indian people. I'm not." He also complains to Jim and Pam, "I would rather Kelly be alone than with somebody. Is that love?" Jim sarcastically tells him,  "yes that's it." That about sums Ryan/Kelly's relationship up doesn't it?
Robert California tells Nellie she needs to leave Andy's office and give him back his job. She still says no. She flirts with "Bobby" and he falls for it completely. He backs off and lets Andy deal with it so he won't blow his future "chances" with Nellie.
Nellie continues holding her ground. She really wants to keep Andy's job, which as you remember she got from basically "squatting" while he was off chasing his lady-love Erin in Florida. This whole situation would be ridiculous and Nellie would have been tossed out on her ear, except that she's somehow brilliantly worked the situation to her favor. She's got the staff liking her. Dwight has even taken on the role of her office spy. And, she's got Robert California lusting after a possible future affair with her. So, it's looking like she might possibly have Andy's job.
Andy is not taking this well. As fans of the show remember, Andy has some anger issues. Lately, we've only seen sweet, happy Andy. But somewhere in the not too distant past Angry Andy is still lurking. This problem with Nellie is just the thing to have him rearing his ugly head again.
In a joint talking-head, Erin explains that she worries about Andy's anger issues and when he gets stressed, she rubs his arm soothingly like a good girlfriend. Poor Andy, it's obvious this is more than he can handle.
Next day, Erin goes into break room. Erin and Andy have a hushed conversation where she is apologizing to Andy for him not being able to perform. What?! Well, it seems that Andy's workplace stresses have spilled over into his sex life with Erin. Seems Andy couldn't make the magic happen in bed with Erin last night. The two of them apologize over and over to each other about whose fault it is or isn't, then go about their day.
In the meantime, Ryan has convinced himself he is in love with Kelly. He is showing Kelly old pictures of their vacation time together. Although none of the pictures are of the two of them. They're all of Ryan. His efforts to win Kelly back are pathetic, but we all know she's been won back with a lot less in the past.
Erin decides to asks Dwight about stresses affecting men. She's not sure what it's called… penialsoftiosis? lol  Dwight says stress never affected him that way. He says that no matter what's going on at work, he's like Washington Monument, Eiffel Tower, etc…Oh Dwight, ha ha!
Pam sees Ryan's half-assed attempts to win Kelly back and gets upset. She's worried  because Kelly seems like she's wanting to go back to Ryan. Pam loves that Kelly's dating her pediatrician, and knows that he's a much better choice than Ryan. Pam decides to try to keep Kelly from Ryan.
Dwight briefs Nellie on all the gossip happening in the office. He tells her in a happy voice that she's emasculated Andy. Bravo, Nellie! But this upsets Nellie because she just wanted the man's job not his manhood. She calls a meeting in the conference room to remedy this situation.
Andy is immediatly on the defensive because what right does Nellie have to call a meeting? She's not the boss! But despite his protests, the staff file in the conference room and trying to save face, Andy calls his own meeting. After a few awkward moments, where Andy tries to gain control of the meeting, Nellie begins. And if Andy thought that part of the meeting was awkward, wait until he hears the meetings topic! Her meeting is about impotence.
Oscar gently asks Nellie, "if the person calling the meeting needs some advice about this particular subject." Nellie assures him that it's not her. She confides that she's never had that problem and shes been with quite a few older men.
"How old!?" both "Bobby" and Creed call out at the same time, which was hilarious. It seems that Nellie has both of them under her spell. Then, to put the cherry on top of an already funny bit, Creed yells out,  "jinx buy me a coke!!!" AHHHH!!!!  Jinx buy me a coke?!  Really?! That can't have been a coincidence that the writers chose that classic JAM line, can it?! Oh man, I burst out laughing at that.  Talk about a romantic JAM moment gone so totally wrong with Creed and Bobby!
Nellie tells the staff that Dwight told her someone was having an impotence problem. When Erin hears this, she realizes Dwight told her secret. Andy then admits it's his issue. Andy tries to check with the other men to admit they have this problem sometimes. No one does. Darryl feels bad for Andy and tells him that, "I have lots of issues, but that's not one of them. I'm overweight, but Andy,  you're… really fit". Oh man, this is just getting worse for our angry Andy.
Gabe chimes in, "I don't know what the problem is. Erin doens't even like sex. She says it feels like she's being tackled by a skeleton." Ha ha, poor Gabe.
Creed again with the one-liner, "I havent heard any complaints and I wouldn't care if I did."
Pam feels bad for Andy, so she pretends Jim had an issue, even though he didn't. She looks to Jim to confirm his "problem" so that poor Andy will feel better, but Jim just can't do it. He tries, but finally admits that "there might have been this one, after they'd already had tons of sex, and he was drunk…" Finally Pam cuts him off realizing he's only making things worse for Andy.
Erin turns to Toby. Doesn't HR have anthing to say about employees sex lives being discussed in a workplace meeting? Toby replies in his normal hound-dog way, "HR's a joke. I can't do anything about anything." Ha ha, another great bit.
Meeting over, everyone's back at work. Nellie makes a mild comment on Erin's secretarial style. This little criticism causes Erin (who is already at her breaking point) to freak out. This causes a domino-effect and  Andy freaks out as well and punches a wall. The wall he punched all those many season ago, that caused him to go to anger management in the first place. Everyone just stares, shocked. Finally, Darryl says, "he does not like that wall." Ha!
In the aftermath of his outbreak, Andy is sitting with Erin holding ice on his hand. Bobby calls them into Nellie/Andy's office.
Ryan is mad at Pam for telling Kelly not to get back with him. Pam tells him that she doesn't care. She doesn't like him and he knows that and besides, he's horrid for Kelly. Everyone in the breakroom thinks Ryan is awful for Kelly as well. Ryan keeps trying to win her back up though.
In a talking head, Kelly explains that she's happy with Bravi, and Ryan puts her through so much drama. She just needs to decide which is more important to her. Ha! Love it, same old Kelly.
Ryan decides to go full-boar and shows up in the parking lot in traditional Indian style wedding gear, and riding a white horse. Pam starts booing. Ryan asks Kelly to marry him… "someday." Pam says, " barf you suck."  Ryan offers her a pathetic offer of "maybe love". Kelly says she loves Bravi, and she chooses him. Then she gives Ryan a much-too-passionate-for-the-occasion goodbye kiss. But it seems as if they might actually be done for good?
Bobby tells Andy that he's decided to go with Nellie and put Andy back on sales. Andy tells him no. Both Nellie and Bobby keep giving him alternate options, none of which include him getting his boss job back. So, once again Andy says no. Bobby tells him that If he says no one more time, he's fired. Andy once again says no.
In a talking-head, he explains how happy he is that he said no. Apprently it makes him so happy that he can 't put down the box he's holding or he'll reveal his umm…Washington Monument? lol Good for him…and good for Erin!
But where does this leave our new office couple?
At the end of the episode, we see Pam digging in the trash to find a poem that Ryan supposidely wrote to win Kelly back. She and Jim are giddy with the idea of reading this ridiculous junk. But, when they read it out loud they both tear up at how beautiful it is. Jim, teary eyed in his talking-head tells the camera, "Ryan can never know."
Well, that's it, folks. What will become of Andy & Erin? Can Kelly continue to do the right things with new boyfriend Bravi, or will she be sucked back into Ryan's toxic world? Will Nellie finally stop teasing and hook up with Bobby? And, will Nellie be the new boss???
Let me know what you thought about this episode and sound off in the comments. Thanks for reading!
-Donna